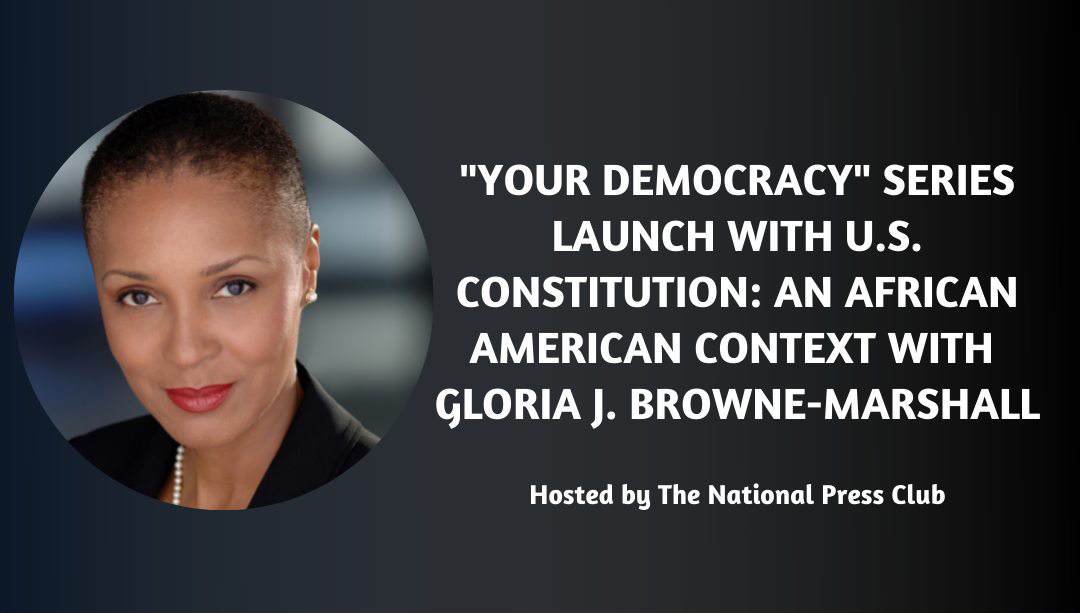 PHILADELPHIA—WHYY presents a new five-part, animated series Your Democracy all about the Constitution. Hosted by acclaimed constitutional lawyer and professor, Gloria J. Browne-Marshall, the series takes a "Civics 101" style approach to the text and can be found at whyy.org and on WHYY's YouTube channel at https://bit.ly/3L9DZLc.
With episodes on criminal justice, citizenship, immigration and states' rights, Your Democracy explores the U.S. Constitution and how it continues to impact our everyday lives. Whether viewed by students or adults in search of contemporary and relevant explanation of our laws, Your Democracy offers scholarly expertise constructed for everyone to grasp.
"We created "Your Democracy" to empower people," says Gloria J. Browne-Marshall, a Professor of Constitutional Law at John Jay College of Criminal Justice (CUNY). "Knowing more about our Constitutional rights is crucial to living in this country."
"Series like Your Democracy allow WHYY to do what we do best: dive deeper into important topics to unveil the nuances and lesser-known facts that complete the story. As with other WHYY podcasts and digital series, Your Democracy offers a robust and representative foundation that informs early and lifelong learning," said Terri Murray, Chief Content Officer for WHYY. 
Your Democracy is produced by Greater Philadelphia's PBS/NPR affiliate WHYY and presented by The Sutherland Family Foundation.
About WHYY:
WHYY is the leading public media organization in the Philadelphia Region, including Delaware, New Jersey, Pennsylvania and beyond. As an NPR and PBS station based in Philadelphia, WHYY produces more than a dozen local programs, such as Fresh Air with Terry Gross and Radio Times, while also bringing you long-time national favorite programs such as Antiques Roadshow, Morning Edition, and more. WHYY provides trustworthy, fact-based, local news and information and world-class entertainment to everyone in our community.
About Professor Gloria J. Browne-Marshall:
Professor Browne-Marshall teaches classes in Constitutional Law, Race and the Law, Evidence, and Gender and Justice at John Jay College of Criminal Justice (CUNY). Prior to academia, Gloria litigated cases for the Southern Poverty Law Center, Community Legal Services, and the NAACP Legal Defense Fund, Inc. Gloria J. Browne-Marshall has spoken on issues of law and justice in Ghana, Rwanda, England, Wales, Canada, South Africa and before the United Nations in Geneva.