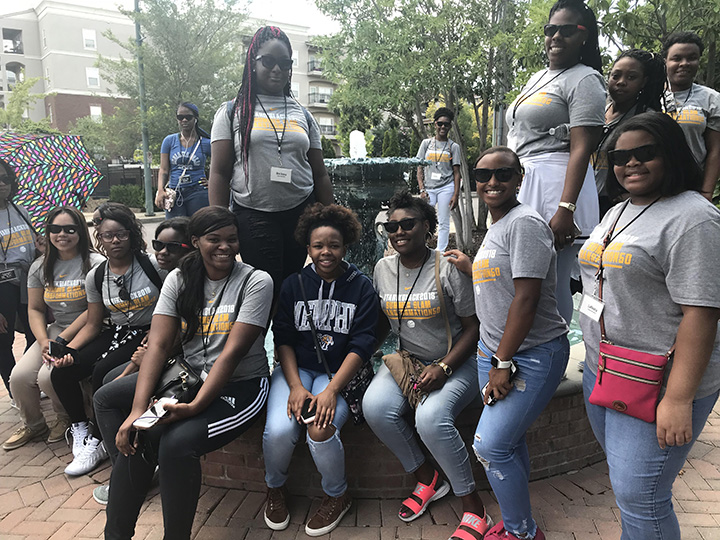 (MEMPHIS, TN – May 26, 2023) The Tarik Black Foundation (TBF) will host its Girls Life Academy Memphis (GLAM!) FEST on June 2-3, 2023 at Mount Olive Cathedral CME Church, located at 538 Martin L. King Jr. Avenue. GLAM, a Tarik Black Foundation (TBF) program kicks off the summer with this two-day event of self-discovery for teen girls ages 12 and up.
On the first day, girls will depart from Mt. Olive Cathedral CME Church at 8:00 a.m. to Malco Powerhouse Cinema Grill & MXT for a special screening of Disney's new adaption of The Little Mermaid. After the screening, conference attendees will return to Mt. Olive for the rest of the conference, which covers various topics including fitness and nutrition, STEAM (science, technology, engineering, arts, and math) careers, and feminine care.
GLAM! FEST organizers have invited a range of local and national subject-matter experts to lead discussions. Session leaders during this two-day conference include Gabrielle Harris, nationally recognized motivational speaker and spokesperson for people with disabilities; Jean Jackson, a production team member of The Last of Us on HBO; Shaylon Scott, founder of Book Mecca in Dallas, TX; Sable Otey, former Olympic Bobsled competitor; and Bruque Argaw, an engineer for General Motors.
Registration is $5.00 and is open to 150 girls. Registration includes the movie screening, entrance to conference sessions, and lunch for both days.
"GLAM! FEST has been one of TBF's programs since 2018," said Judith Black Moore, president and co-founder of TBF. "However, we have changed the format this year from a six-weeks camp for 20 girls to a festival-like conference for up to 150 girls."
Corporate sponsors for GLAM! FEST are Lemon Perfect, True Moringa, ServiceMaster Clean, the National Basketball Players Association, Tennessee Valley Authority (TVA), Baptist Memorial Healthcare, The Carter Malone Group, Mt. Olive Cathedral CME Church, and Moore Communications.
Parents and youth can register online at www.tarikblackfoundation.org/events. For information, call (901) 497-6634.
About The Tarik Black Foundation (TBF)
The Tarik Black Foundation was founded by former NBA player now international basketball player Tarik Black. The Memphis native, who graduated from Ridgeway High School, received his undergraduate degree from the University of Memphis and his master's degree from the University of Kansas. The Tarik Black Foundation, headquartered in Black's hometown, Memphis, TN, provides programs and recognizes causes that offer to help bring about positive change in communities. The foundation is managed by Tarik's mother Judith Black Moore who serves as president and oversees day-to-day operations. For more information on the organization, visit www.TarikBlackFoundation.org.
About Girls Life Academy Memphis (GLAM)
GLAM, or Girls Life Academy Memphis, is a TBF program. Our mission is to elevate understanding in the areas of Global Diversity, Wealth Creation, Healthy Habits, and the Impact of Technology by providing youth access to practical information through exposure to the real world.