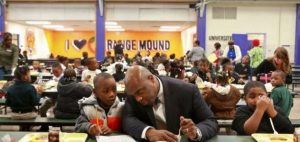 Today, Aspire Public Schools Chief Executive Officer Carolyn Hack announced the appointment of Nickalous Manning, Ed.D. as the new Memphis Area Superintendent. He has been with the organization since 2012, serving as an Associate Superintendent, Director of Curriculum and Instruction, Principal of Hanley Elementary and Memphis Community Outreach and Partnerships Manager.
"Nick brings a wealth of experience to his role, as both an Aspire principal and regional leader," said Hack. "His unwavering commitment to his hometown, deep love for Aspire and its vision, and inspiring leadership style make him the right choice to lead Aspire Memphis." Aspire currently has three schools under the Achievement School District and one under Shelby County Schools. More than 1,600 students attend the Memphis Aspire School District.
"I look forward to serving children and families in my hometown," said Manning. "I believe in our mission and vision for our schools and our scholars. I am proud of what our team at Aspire has accomplished already and I look forward to working with our Aspire teammates to improve outcomes for children. I will work hard every day to achieve that goal."
Prior to joining Aspire, Manning worked in the Memphis City School system as a teacher, assistant principal, New Leader Resident Principal and a principal. He holds a BS in Secondary Education with a concentration in Economics from the University of Tennessee at Chattanooga, M.Ed. in Educational Leadership and Ed.D in Professional Practice from Trevecca Nazarene University.
Manning becomes Aspire's second Memphis Superintendent replacing Allison Leslie who announced her departure in May. Leslie is thrilled for Manning. "I am looking forward to seeing Dr. Manning continue the great work we started together and make it even better.  He believes in the importance of academic excellence for all of our scholars and it shows in the work he has done to date."
 About Aspire Public Schools
Aspire Public Schools operates 40 high-performing, college-preparatory public charter schools serving 16,600 students in underserved communities across California and Memphis, Tennessee. Founded in 1998, Aspire is one of the nation's largest open-enrollment public charter school systems serving predominantly low-income students, delivering a rigorous College for Certain education across grades TK-12. Currently in its 19th academic year, Aspire is one of the nation's first charter school systems. Visit Aspire Public Schools at www.aspirepublicschools.org.