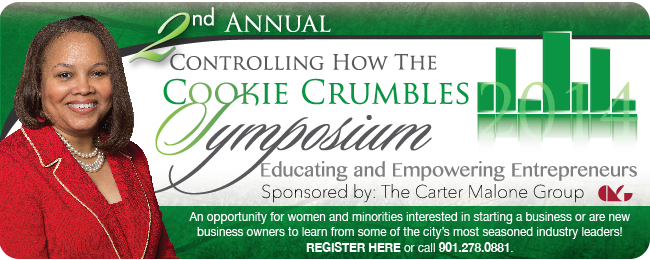 The Carter Malone Group LLC, one of the city's largest female-owned public relations firms, owned by Deidre Malone will be hosting three free symposiums entitled Controlling How the Cookie Crumbles: Educating and Empowering Entrepreneurs starting Saturday, January 12, 2013 at Bethlehem Missionary Baptist Church at 9:00 a.m.
This symposium is designed to target women and minorities who are interested in starting a business or are new business owners. Information will be shared about the staples any business needs to get off the ground including a strong business plan, industry benchmarking, utilizing resources within the community, marketing and so much more.
Seasoned industry leaders will serve as speakers for this symposium including Gina Neely with Down Home with the Neely's, Nita Black – MAP Momentum, Alandas Dobbins – Memphis Office of Resource Enterprise, Natasha Donerson – Success Unlimited, Carolyn Hardy with Chism Hardy Enterprises and Pamela Brooks-Martin with Cushion Employer Services. They will share their business success stories. Dates and locations include: Saturday, January 12, 2013 @ Bethlehem MB Church, Saturday, January 26, 2013 @ Bloomfield Baptist Church and Saturday, February 16, 2013 @ Breath of Life Church. Registration begins at 8:30 a.m. at all events. Program begins at 9 a.m. and ends at noon.
"We have to not only promote economic growth within the Memphis community but also show new and upcoming business owners what it takes to be sustainable," said Deidre Malone, President and CEO of The Carter Malone Group. "This series of symposiums are designed to help individuals learn from industry leaders and have an opportunity to network with other entrepreneurs in the area."
A $1,500 grant and other benefits will be awarded in March to the best business plan presented by the participants to help get their business started or to help them grow their business. All three events will benefit the Memphis Chapter YWCA Abused Women Services or F.F.U.N – Freedom From Unnecessary Negatives. Participants are asked to bring an item to donate or financial contribution to one of the above organizations and receive free entry.
"We decided to donate to the Memphis Chapter YWCA Abused Women Services and F.F.U.N. because these organizations are important to our community," said Malone. "The donated items and contributions will go to the YWCA's Domestic Violence Program and F.F.U.N.'s Stop the Killing initiative. These are both very worthy organizations we want to support through these symposiums."
There is limited seating for these symposiums so registration is required.
For more info contact, The Carter Malone Group (901) 278-0881 or visit our website at www.cmgpr.com.
About The Carter Malone Group, LLC:
For more information on the event click here for the flyer:  Controlling How The Cookie Crumbles Symposium Flyer